Natasha Cloud is not discussing the threats she has received because of her outspoken activism on social justice issues. She's discussing basketball.
Cloud opted out of the 2020 WNBA season to put her full energy into social justice work in the District of Columbia, where she plays. "I've been working out," she says. It is early October as Cloud prepares to leave for Italy, where she will play her overseas season in the EuroLeague Women. "I haven't played live basketball in about almost a year now," she adds. "This could be either really good or really bad."
Following a summer of intensive social justice work, the Washington Mystics guard is looking forward to shaking off some rust—and a change of scenery. "It's been the one place that I've always wanted to go visit since I was young," she says of Italy. "I even took Italian in college because I wanted to go so bad. Experiencing a different culture was always my favorite thing about playing overseas. There's beauty in our differences."
I'm not even gonna put on a front. I really struggled
"I've never been this exhausted," says Cloud about her social justice work
© Maddie Ivey
Yet in 2020, other kinds of differences tore apart American society. Video of George Floyd, pleading for his life, killed beneath the knee of a Minneapolis police officer, went viral. And there was Breonna Taylor, a Black ER technician who had been killed in March inside her Kentucky home by police officers attempting to serve a warrant on Taylor's former boyfriend. Millions of Americans were outraged, including Cloud, who made the difficult decision to opt out of the season to work full time to end racism and police brutality.
"I've never been this exhausted during the season, even with winning the championship in D.C.," Cloud says. "As a Black American, it takes a different type of drain on you, to have to continuously be vulnerable and emotional with people in talking about what's going on in our country right now and how it directly affects us. I'm not even gonna try to put on a front. I really struggled."
It was quite a different struggle for Renee Montgomery. For her, the summer away from the court was packed with appearances and interviews scheduled weeks in advance, all while moonlighting as a broadcaster at TMZ Sports. "It's been crazy," says Montgomery. "I have back to back to back right now—11:00, 11:30, 12:00, 12:30. It's like that every morning." To allow her days to go smoothly, Montgomery has simply surrendered to staying in makeup all day and maintaining gratitude for the opportunities that keep arising. "Every day when I wake up something new pops up. My manager will hit me and be like, 'Hey, so-and-so just hit me. Do you want to do this?'"
While Cloud and Montgomery were working outside of the "bubble" of IMG Academy in Bradenton, Florida, where the 2020 season was played because of the pandemic, the WNBA, its players' union and the league's 12 individual teams had agreed to dedicate the season to social justice and support the Black Lives Matter and Say Her Name campaigns.
As the season began in July, delayed two months due to the pandemic, the league played on courts emblazoned with BLACK LIVES MATTER on the sidelines, and players wore jerseys bearing Breonna Taylor's name on the back. After Atlanta Dream co-owner and U.S. Senator Kelly Loeffler opposed the WNBA's support of BLM, Montgomery, a free agent who last played for the Dream in 2019, penned a poignant open letter to Loeffler. "Your comments hurt deeply because it was a veiled 'All Lives Matter' response," she wrote. "It's not that you're tone deaf to the cry for justice, but you seemingly oppose it. And you are speaking from a position of immense influence as a team co-owner in our league and as a U.S. Senator.
Neither Montgomery nor Cloud would be deterred by such challenges. They would instead rely on the on-court talents that brought them success in college and in the pros, including championships and copious individual awards. Now an 11-year veteran, Montgomery's star twinkled brightly during her run at Connecticut, where she captained the Huskies to a perfect 39-0 season her senior year and a National Collegiate Athletic Association Women's Tournament title. She was chosen fourth in the 2009 WNBA draft and then helped the Minnesota Lynx to win two championships, in 2015 and 2017.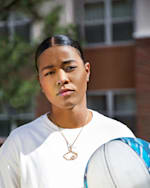 Cloud has learned that speaking truth to power comes with risks
© Maddie Ivey
Cloud took a subtler path to winning the 2019 WNBA Championship with the Mystics. Instead of attending a basketball powerhouse, Cloud committed to St. Joseph's in Pennsylvania, where she ranked second nationally in assists per game. Cloud was drafted in the second round of the 2015 draft by the Mystics. In the 2019 playoffs, her average of 13.1 points per game made a difference but her 6.2 assists per game perhaps made the difference in the Mystics' ability to pull off a Game 5 win in the finals over the gritty Connecticut Sun.
Though they have different styles of play, both guards flaunt versatile games based on strength, will and sharp court vision. Like any good point guard, Cloud and Montgomery don't just make plays—they pull the strings on the offense in a way that shifts the action, resulting in collapsed defenses and buckets for their respective teams. They think moves ahead and plan accordingly; they also make adjustments on the fly.
It is this perspective of problem-solving that Cloud, from the seat of government in D.C., and Montgomery, from the birthplace of the civil rights movement in Atlanta, brought to their seasons away from the court in pursuit of racial justice. But stepping away from the WNBA season while under contract meant Cloud and Montgomery had to forgo their salaries, a choice rife with potential fallout that each woman was willing to endure. WNBA players bring in middle-class salaries that pale beside the lucrative paydays of their male counterparts. It is why Cloud and most of her peers spend their so-called WNBA offseason competing in leagues abroad, where salaries are better.
It's also why NBA star Kyrie Irving swooped in last July to commit to pay the salaries of WNBA players who opted out of the season, to ease at least their financial burdens as they set about the difficult work of fighting for social justice. "(Kyrie) made sure the women would see some type of compensation, to make sure they were protected, that their families were protected," Cloud explains.
As with any must-win game, neither woman caved to exhaustion or adversity. The urgency of the moment—a modern-day reckoning around race and police brutality—called for nothing less. When it came to the fight against racism, they were there to make a critical assist.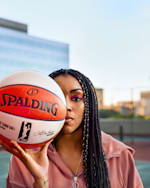 Montgomery launched an initiative that funds HBCU students in Atlanta
© Maddie Ivey
One hundred and fifty-seven years ago this November, President Abraham Lincoln dedicated the battlefield at Gettysburg a national cemetery to honor those who "gave their lives" fighting for "a new nation, conceived in liberty, and dedicated to the proposition that all men are created equal."
In just 272 words, Lincoln went well beyond honoring the dead. He implored the living to complete the "unfinished work" of those who perished. He urged those gathered to "resolve that these dead shall not have died in vain." In that spirit, Cloud doesn't want Breonna Taylor's death to be in vain."She hasn't received justice," Cloud says. "But that doesn't mean that we're not gonna continue to fight for her to receive justice."
Taylor, a 26-year-old who was not a suspect in the investigation and had no criminal record, was killed when police, serving a warrant at her address (whether they knocked remains in dispute), shot her multiple times. While an officer injured in the incident was rushed to a hospital, Taylor bled to death in her hallway without an effort to render aid.
"When you're talking about police brutality, it's very daunting because they are untouchable," Cloud says. "We don't ever see justice. Even in this case of Breonna Taylor, if you held those cops accountable for their actions, it changes how policemen and women go about their day. It changes how they handle situations with Black and brown men and women because they understand they can't just do what they want anymore. Whether it is violence within the community or police brutality, there's a lack of concern in value for life, and a lot of these lives are Black and brown. So for me, it's the hardest thing: How do we bring back that value for life? How do we bring back people's empathy and sympathy and humanity?"
For Cloud, a reclamation of dignity is only possible with a change in national leadership. "Where we are right now in 2020 with (the election on) November 3rd, we're so stuck in, 'I'm a Democrat. I'm a Republican,'" she says. "I don't give a shit about that. Are you a good human being? I know things have been bad in our country in the past, but I've never felt so divided by race this much."
Admitting she doesn't have all the answers, Cloud sought to control what she could. Topping her to-do list was inviting marginalized communities—in particular in Wards 7 and 8, where the Mystics play—into the voting process.
"The voter suppression has been terrible there for years," Cloud says. "There's been voters who said that they have waited five hours in line just to cast a vote. So our first initiative was to get Capital One Arena, which is where the Wizards play, available as a polling location. And we got that done."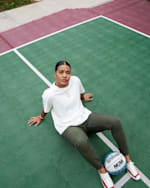 "I will not be deterred. This is the fight I have to fight," says Cloud
© Maddie Ivey
Cloud also wanted to secure the Mystics' home arena as a polling location. "I found out that the Entertainment and Sports Arena had said no to being the poll location for Wards 7 and 8. I immediately took to social media to make sure that all my followers knew that this is what was going on, but also to put pressure on the CEO of the Entertainment and Sports Arena. For me, it was holding them accountable."
As Lincoln stated at Gettysburg, the nation is meant to be "of the people, by the people, for the people." Yet Cloud has learned that speaking truth to power comes with risks. "I get threats every time I speak out," she says. "I get crazy-ass stuff sent to me. There was points in D.C. when I was taking on gun violence and being threatened because I was coming at certain figures within the community."
Cloud, who is Black and was raised in an all-white family, doesn't consider herself a hero. "I don't look at myself in that light," she says. "I look at myself as someone that is grounded, who is passionate about helping her community." She is quick to apply the label to her parents, however: "Your heroes start at home. I acknowledge how much they've done for me to live out my dream and the opportunities and resources that I had because of them. I want the same for every other child."
It is the "unfinished work" Lincoln spoke about at Gettysburg. And like many citizens who fought for racial equality before her, Cloud's endgame is to realize the nation's founding principles. "I said it once before, and God, it brought tears to my mom's eyes," Cloud says.
"But if I have to go down for this fight, I will if that's what it takes," she adds. "I will not be deterred. This is the job I have to do. This is the fight I have to fight."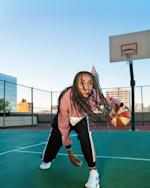 Montgomery started a campaign to boost voter registration in her community
© Maddie Ivey
Ordinary people with extraordinary vision can redeem the soul of America by getting in what I call good trouble, necessary trouble," John Lewis, civil rights icon and U.S. Representative for Georgia, wrote in a New York Times op-ed that was published on the day of his funeral.
Televised images of a much younger Lewis being beaten nearly to death by a police officer punched the gut of a segregated society and generated momentum for passage of the Voting Rights Act, which abolished a prior law requiring Black people to take literacy tests as a prerequisite to voting and ensured them access to the polls.
Momentum is something Renee Montgomery knows a lot about. Whether in a close game or in society at large, a singular moment can galvanize positive energy that can be sustained. Much like Congressman Lewis did in his youth, Montgomery has concentrated her efforts on engaging disenfranchised groups in the voting process. To that end she is teaching her community about election literacy through the Renee Montgomery Foundation's "Moments Equal Momentum" campaign.
"What we're doing is twofold," she explains. "There's a voting registration campaign called 'Remember the 3rd.' A lot of people feel passionate about different things happening, but they don't let that passion carry them all the way over to the actual polls and vote."
In a video posted to her foundation's website, Montgomery explains her solution. "'Remember the 3rd of November' will not talk about who to vote for, but instead break down what local and federal government officials' responsibilities are," she says in that clip. "We want to connect the dots to how those responsibilities affect voters' everyday lives.
Some may wonder why, if the Voting Rights Act became law in 1965, there is a pressing concern in 2020 over voting. But many Black voters still question whether they'll get to vote at all. Gone are the literacy tests of yore, but states have found new ways to dissuade Black and brown voters from casting ballots: requiring voters to have a driver's license, denying convicted felons the right to vote, removing polling locations, disabling postal infrastructure and numerous forms of voter intimidation.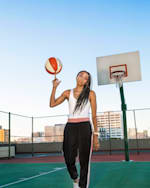 Montgomery wants to improve how school textbooks reflect Black history
© Maddie Ivey
A graduate of the University of Connecticut and daughter of a university professor, Montgomery understands how education can empower—and how traditionally marginalized groups can fall through the cracks. After hearing her mother's stories of students making it to their final semester in college but not graduating because they ran out of money for tuition, housing or even books, Montgomery launched "The Last Yard" initiative, which raises money and disperses it as grants to students at Morris Brown, a historically Black liberal arts college in Atlanta founded by African Americans in 1881. She's also working to get a technology center built on the Morris Brown campus. Fittingly, one of Montgomery's biggest heroes is LeBron James, who has done invaluable work with his I Promise School to pave a way for students to go to college.
Montgomery is passionate about the need for her community to understand how decisions at the ballot box impact all aspects of our lives, including what kids learn in school. When it comes to U.S. history, she says, too many textbooks have been slanted toward the narrative of the oppressor, which is why she supports the 1619 Project's mission to educate students on Black history, which has traditionally been omitted, altered or erased.
"You filled me with hope about the next chapter of the great American story," Lewis wrote. "Millions of people motivated simply by human compassion laid down the burdens of division. Around the country and the world you set aside race, class, age, language and nationality to demand respect for human dignity."
Lewis was talking about people like Montgomery and Cloud, two strong women providing assists to their communities while "finishing the work" laid out by Lincoln.