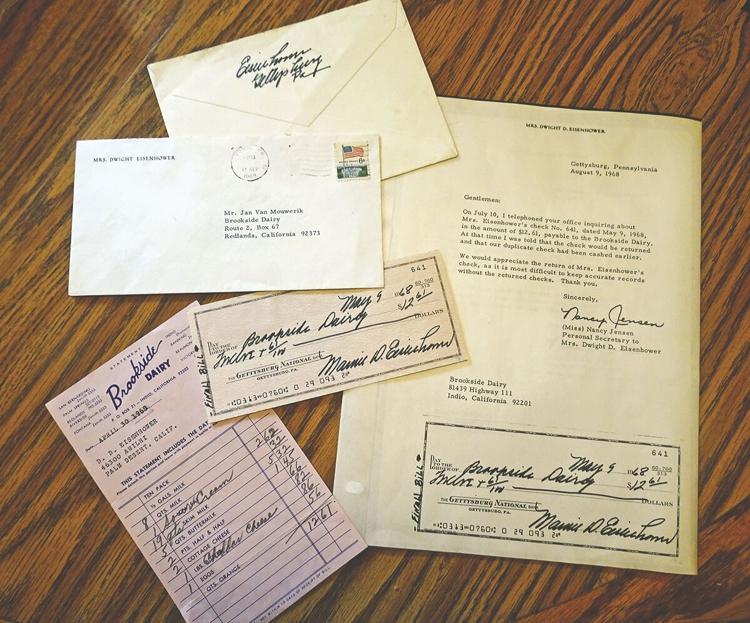 After Mamie Eisenhower wrote a check to the Brookside Dairy in Redlands, the Van Mouweriks asked to keep it. She agreed. 

Photo courtesy of the University of Redlands

The Museum of Redlands recently received a check signed by former first lady Mamie Eisenhower as payment to Brookside Dairy of Redlands.
The check was donated by Jan Van Mouwerik, whose family owned the Brookside Diary from mid-1931 to 1985.
The check, dated May 9, 1968, was in payment for milk deliveries to the Eisenhowers' winter home on Amilhi Street in Palm Desert. The total was $12.61.
However, saving a check with a historic signature is not an easy thing. The business letters clearing up the matter were also donated to A.K. Smiley Public Library Heritage Room/Museum of Redlands. They included original typed letters on Mamie Eisenhower's business stationery, inquiring why the check wasn't cashed. She needed to balance her checking account.
The correspondence between Redlands and the Eisenhowers's main home at the Gettysburg Farm in Pennsylvania concerned this final bill for their season in their desert home.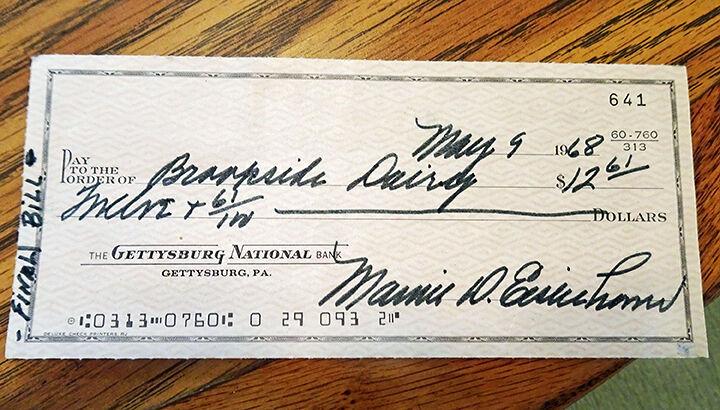 When Mrs. Eisenhower's check in May was not cashed, her personal secretary Nancy Jensen had telephoned the Brookside Dairy office July 10 to straighten things out.
Van Mouwerik ended up typing a letter to "Miss Jensen" noting: "We here at the Brookside Dairy feel honored to have served the Eisenhower family during their stay in Palm Desert. … The check for $12.61 was received here and became an object of great interest. We wonder if you would stop payment on this check and let us keep it as a memento of having had the privilege of serving dairy products to the Eisenhower family.
"We consider the account as paid in full. If this does not meet with your approval, please let us know and we will return the check at once."
Jensen in a letter (again on stationery printed "Mrs. Dwight D. Eisenhower") wrote, "I have told Mrs. Eisenhower of your recent letter and inquiry about her check … and she has asked me to tell you that, as you request, you may keep the check as a memento. With Mrs. Eisenhower's best wishes…"
Three original mailing envelopes were also saved and donated to the Museum, two printed simply "Mrs. Dwight Eisenhower" as the sole line of return address one with hand-written address in the heavy black ink she used to sign the check, and one with a 10-cent airmail stamp from Gettysburg (probably to speed conclusion of getting this bill settled).
Van Mouwerik also shared some of the history of the diary at the corner of Brookside Avenue and Alabama Street where the Stater Bros. shopping center and the Lawn and Tennis apartments are now located. Their property grew from some 100 milking cows to 400 during peak time in the 1940s, and expanding from three to 65 acres.
Brookside dairy ran some 40 delivery trucks from as far as Fontana to Beaumont, Banning and on out to Indio.
In those days in the desert, doors were often left unlocked so the milkman could put the quart bottles directly into the refrigerators.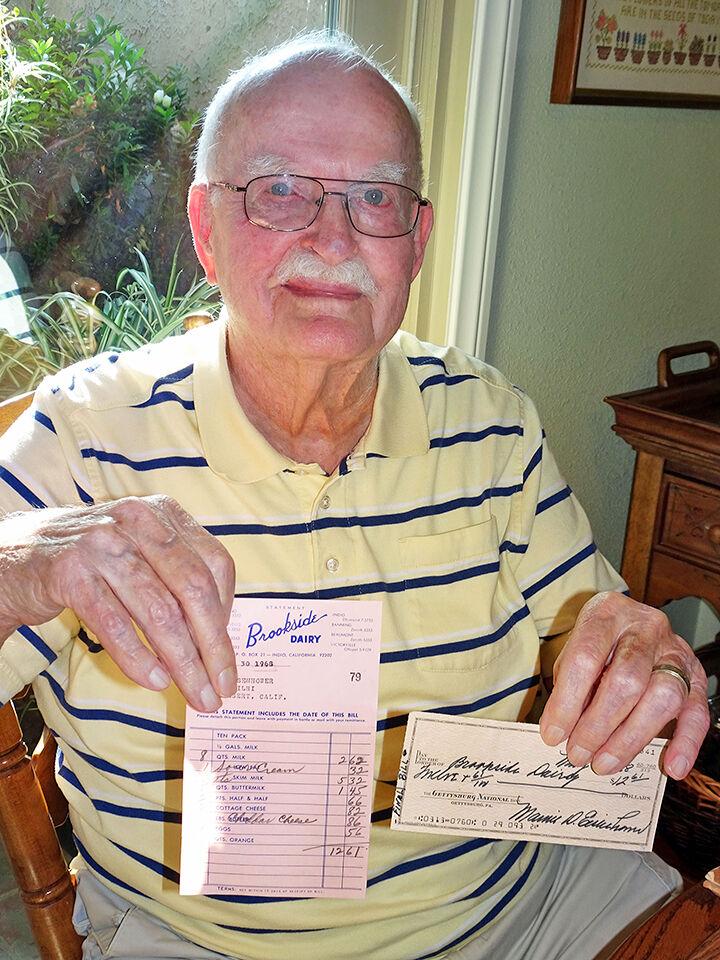 Jan Van Mouwerik, whose family owned the dairy, displays the paperwork.
What $12.61 cents could buy in 1968
Eight quarts of milk, 19 quarts of skim milk, five quarts of buttermilk, two pints of half and half, two cottage cheese, one sour cream, one cheddar cheese and one box of eggs.